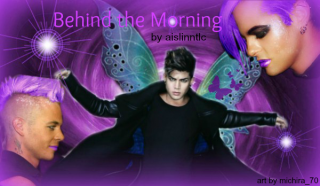 Title:
Behind the Morning
Artist: michira-70
Author: aislinnsdair
Type: AU, fantasy
Word Count: ~9,590
Rating: NC-17
Characters/Pairings: Adam/Sauli/Tommy, Lisa, Bridget, Isaac
Content/Warnings: Winged fairies
Summary: The last thing Tommy expected when Sauli dragged him over the Scottish countryside, in search of a fairy ring, was to find everything he'd been looking for his whole life.
Links to Art Master Posts:
LJ:
http://michira-70.livejournal.com/109704.html
DW:
http://michira-70.dreamwidth.org/75142.html
IJ:
http://michira-70.insanejournal.com/132753.html


Author's Notes: Written for the Glam Reverse Big Bang. A sort of modern fairy tale inspired by the beautiful artwork of michira-70. I will be endlessly thankful to moodwriter for her pre-read, and especially to leela_cat for her invaluable beta work, which polished many rough edges. Any remaining errors are my own. Though the characters are based on gorgeous, fascinating men, they are of course entirely fictional.

( Read more: )

.